What is a regional roundtable?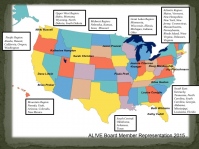 Networking with your peers, in your area! See the calendar dates & times to sign up, or join us that day! Currently we have regional roundtables in the Pacific and Eastern zones. To register, visit our
calendar
and go to April 24 to see exact times and log in information.
Regional roundtables are a great way to ask questions, debrief, discuss, brainstorm, celebrate, inform, or share challenges with your peers. Here are the highlights. Each Regional Roundtable will be a little different because they are member led and focused on topics YOU bring up!
A one-hour discussion with your peers in your region, moderated by one of our Board Members
Topics focus on what might be happening in your area (weather? economic trends?)
Network with your peers
Find out about regional events, trainings, or conferences in your area
Have a question or concern? Bring it here to discuss with your peers
Make connections with others in your area
Learn more about AL!VE benefits and membership
What are our Regions?
Atlantic – ME, VT, NH, NY, NJ, CT, MA, RI, WV, DE, VA
GL – WI, IL, MI, IN, OH
Midwest – NE, KA, IA, MO
Mountain – NV, UT, AZ, CO, NM
Pacific – AL, HI, OR, WA, CA, SC, OK, AR, TX -
South East – KY, NC,
South Central- TN, GA, AL, MS, LA, FL
Upper West – ID, MT, WY, ND, SD
Sign up here
, or visit our calendar to see more.